A little something for everyone.
This year's event will feature brand new obstacles, in addition to some returning favorites. Each obstacle is uniquely designed and hand-built by the Mudfest masterminds to challenge runners in ways they never imagined.
New to this year's event are the Highland Games, an exhilarating exhibition of strength that starts at noon. Spectators can watch thrilling events like the Caber Toss, Stone Put and more. At 1:30 p.m., the Farmers Carry – which everyone can participate in – will take place and get the crowd involved.
After tromping through the mud all day, participants and spectators will find Central New York's biggest barn party with food, drinks and music.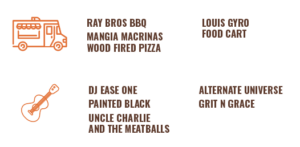 Do our untimed 5K – run it, walk it, do it just for the fun of it. Don't wait – JUST REGISTER!